Looking for Custom Privacy Vinyl Film?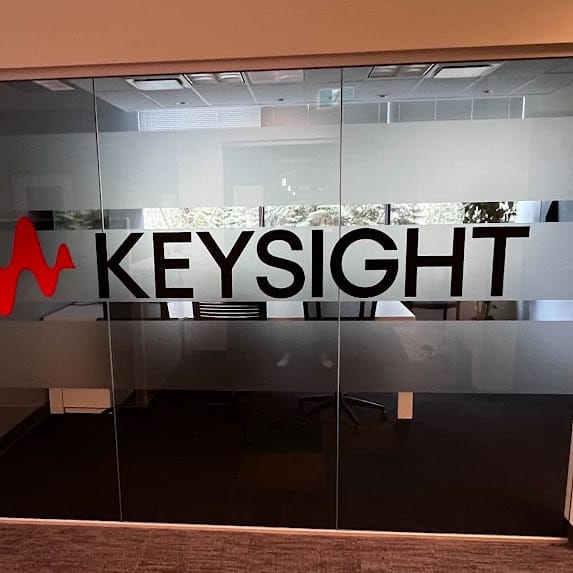 The open concept floor layout is gaining popularity in modern workplaces. Instead of solid walls or high cubicles, large glass or plastic panes are used to divide spaces. If you love this style but are concerned about maintaining a bright, open atmosphere while ensuring privacy, our privacy vinyl film is the perfect solution.
Our unique vinyl films are designed to resemble etched glass, providing the appearance of privacy without actually being opaque. While allowing some light to pass through, the film offers enough seclusion for conference rooms and other sensitive areas. Enhance your space with a privacy vinyl logo on your door, privacy film on your windows, or even cover an entire conference glass wall for a stunning frosted look.
Influence Signs and Graphics offers a wide selection of privacy and decorative window films, all customizable to suit the specific requirements of your workplace or office environment.
What is Privacy Vinyl Film and How Does it Work?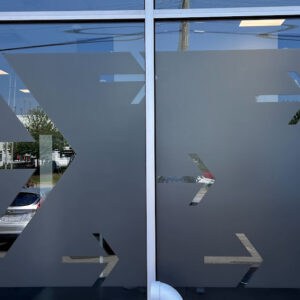 You may have encountered privacy films on a daily basis without realizing it. These coatings give glass and plastic surfaces the look of frosted, etched, or textured glass at a fraction of the cost. When applied to clear surfaces, the transparent film creates the distinctive frosted or textured appearance. While allowing natural light to filter through, it prevents details from being visible, maintaining an open and airy atmosphere in your office or workplace.
Where can Privacy Vinyl Film be Applied?
Adding privacy film to your company is easy and can enhance the appearance of various areas. Consider installing it in conference rooms, offices, waiting rooms, or reception areas to create a more inviting atmosphere. Privacy and vinyl window films are a great choice wherever a little extra privacy is desired.
Our window films not only enhance security but also maintain the natural brightness of the space. Contact us now to learn more. Conference rooms don't have to be gloomy and intimidating to achieve the privacy you desire!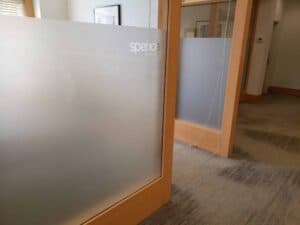 Other Applications of Custom Privacy Film
Our well-designed privacy window films not only provide privacy and texture but also serve as excellent marketing tools. They can display your company's logo, branding, and slogan in a professional and stylish manner.
You can also use window films to indicate room numbers or names, creating a uniform and informative atmosphere throughout your property. Additionally, you can place your logo or brand on office doors across the building.
If you want to enhance your work environment, consider getting custom privacy film from Influence Signs and Graphics. Our creative experts can help you choose the best design to suit your needs. Contact Influence Signs and Graphics to learn more about how vinyl films can improve the appearance and functionality of your workplace. Contact us now.